"Oh. Oh my. He's not going to be happy."
My heart has gone into my throat momentarily at the usher's words. She is looking at our tickets gravely. My friend Paul and I have arrived fifteen minutes late to the World Cafe in Philadelphia to see and listen to Henry Rollins. It's my fault – I had stopped to eat and to get a fill-up on my gas tank on the way. So, there we were. And we were facing the disappointment of Henry Rollins.
This video should give you the gist of the sensation that Paul was feeling – albeit more quietly – at around the 40 second point of the clip. And, I suppose I was feeling it to a lesser extent.
With some terror in our hearts, we were admitted entry to the gig and were seated – in the front row. Apparently, Hank (as Rollins sometimes calls himself), is very sensitive about these sorts of things.
Sensitive might not be something you associate Rollins with.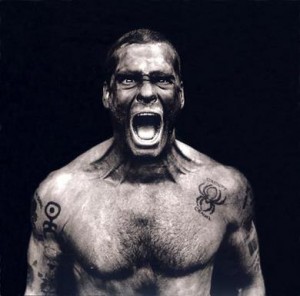 Yet, this 'aging alternative icon' as he proclaims himself is a lot more than what one might expect of him. The hard living Henry Rollins of ex-Black Flag fame, the lean, thin-blooded 'Get In the Van' hero has a lot of things that will surprise you. While he's lived the very harsh punk lifestyle of SoCal for a time, in his time he's seen a lot; and while millions of Americans no doubt only remember him as the guy who sang 'Liar' and managed to kick his own ass on a tour in Brazil, Rollins is much, much more.
Sometime in the mid-nineties, Rollins began doing speaking tours pretty much anywhere that would take him. Being the kind of guy who's not happy to sit about and just watch the world go by, he has hit many locales internationally. I've seen three in the past two years – once figuratively in my backyard in Delaware (if you're reading this Hank, come back to the Grand). Watching him speak is like watching an amiable, well-traveled typhoon; a singularity of reason and hard-earned world experience. So, when Paul and I managed to work our way to the front row for our seats, we were overwhelmed with one important thing: please. Please do not let Henry Rollins single us out.
He didn't – we were all the way on stage right at the very end. We were spared the force of his ire and were then allowed to look on. It's the closest I've sat to the man. And, as always, he was brilliant.
Henry Rollins was in good form last night. Having recently celebrated his fiftieth birthday, he's launched his new tour and was more than happy to talk about his experiences both domestic and abroad and to inject his audience with his raw force of personality and his unique and poignant viewpoints. Being in a room with Henry is like sitting next to a live wire, that, if you dare to let it get close to you, will shock you in a way that will not fry you dead but spark a will to be better than what you were before you felt his words go through you.
Some of my friends have been incredulous that Rollins could be an intellectual. This is the guy who played a neo-Nazi in Sons of Anarchy. The 'Bad Karma Boy'. Christ, he was Spider in 'Johnny Mnemonic'.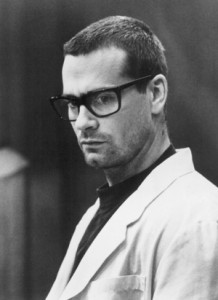 Yet, there he stands, reminding you that he thinks the race/gay/gender prejudice thing is bullshit. Rollins likes to work, and SoA was a gig – a fun gig with a good crew of actors and people who treated him much more like family than one would expect given they portray violent gangers on television. You realize that the guy is very different than the roles he portrays in television and film, and he's still as bright and energetic a spark as he was when he was in the hardcore punk scene that he was a vital part of in SoCal in the 1980s.
Rollins tackles all fronts and makes no apologies. Everything from the lowest of the lows to the most inspirational of moments. The funny to the tragic.
Rollins has certainly known tragedy. I have difficulty listening him talk to an audience in a speech from very long ago concerning his friend Joe Cole; a man who was gunned down just feet away from him in a mugging/home invasion that turned into a homicide. It reminds me of my own experience with the death of someone right in front of me, and it twinges my heart and my soul every time I hear that bit on my DVD recording of that gig. Rollins rarely speaks about Cole in public, though his name came out last night during the show, and I felt honored to be in the room with him mentioning the voice of his friend.
Yet, he acknowledges the joys of life as well, and he makes it a point to go to other places and see other cultures and prove that these places that we are encouraged to fear aren't really all that different from us. In recent trips he's visited Iran. He's been to North Korea, He's been to Afghanistan and to Saudi Arabia. He reaches out so he can find things out for himself and is almost always rewarded with a positive benefit.
I guess what I'm trying to say is that Rollins is an experience. Seeing Henry makes me realize that there are people out there who really are trying, actively, to make this world a better place. The world needs more Henry in it. It needs multiple Hanks. If we had more men and women like Henry Rollins, we could, as he says "come closer to the day of the perpetual, 24-hour a day P-Funk and Ramones block party."
So, Hank, if you're reading this, know that there's people out here who are following your lead, who're getting the message. And, who are very, very sorry that we were late to your show.