A Change In Format
Forgive me for the brief interruption, but I'm feeling like The Cutting Room Floor is shaping up more like a series of lists and one-liners than something more insightful. I'll still be giving you the content you remember: the good, the bad and the indifferent won't be going anywhere, nor will my cinematic sins that fell by the wayside. I'll be trying to expand content in the lists a bit more, but mainly I want to include a couple articles about my experiences and realizations with cinema generally during the nineties and beyond. We'll get to my topic for this post just after we get through…
The Good, the Bad, and the Indifferent.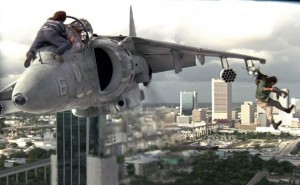 Cabin Boy (Bad) – Chris Elliott is Chris Elliott in this largely forgettable movie about a man-child brought onto a ship as – you guessed it – a cabin boy. At least his pipes are cleaned.
Ace Ventura: Pet Detective (Bad) – Sorry, this was too much of Jim Carrey in a ninety-minute period for me. A Wacky guy with a knack for working with and retrieving lost animals goes after yet another animal quarry. Courtney Cox falls in love with this idiot along the way. Points given for the bit where Carrey's butt asks for Binaca.
Blank Check (Indifferent) – This film has something to do with Miguel Ferrer trying to get a lot of dirty money back from a kid who he has paid hush money to in the dumbest way possible. Smart criminals don't write blank checks, dumbass.
Naked Gun 33 1/3: The Final Insult (Indifferent) – No O.J. this time given the Trial of the Century. It's probably not the only reason the movie is forgettable though. After a while, all of this franchise's films feel like they're just the same movie on repeat. Leslie Nielsen does variously dirty and humorous things while fighting crime.
Clean Slate (Indifferent) – Dana Carvey is not Garth in this ho-hum comedy about an amnesiac detective. I think. It's hard to remember. And I paid theater ticket price too. Lesson learned.
The Flintstones (Bad) – It's okay to leave some properties alone, Hollywood. We can just watch the old cartoons. They're better. Put your money into something more innovative next time. I honestly can't remember anything about this movie other than wanting to escape despite the presence of John Goodman and Rick Moranis in the film.
City Slickers II: The Legend of Curly's Gold (Indifferent) – I can only tell you that this involves Jack Palance not being around anymore and something about his supposed hidden gold which Billy Crystal and Daniel Stern look to find. I don't think they went for a City Slickers III after this one. Yet. Give the studio time though.
Speed (Bad) – Whoa. The bus can't stop. Whew, I stopped the bus. Kiss me, leading lady person. Where is my paycheck? This must be what it was like to be Keanu Reeves in the nineties. Sandra Bullock also features as leading lady person.
Wolf (Good) – This wasn't a bad film really. Had a good cast between Jack Nicholson, James Spader, and Michelle Pfeiffer. Nicholson gets bit my a werewolf. Spader gets bit by Nicholson. Then, they fight over sexual access to Pfeiffer. But… that's really kind of it.
The Lion King (Good) – You can crib worse plots than Hamlet (you can also rip off worse series than Kimba the White Lion). The technical work was good between the rotoscoping and the shading technologies emerging at the time, but this film doesn't get me back to watch it too often. It's a definite highmark in terms of technique. Hakuna Matata will always be better than YOLO.  Oh, and Disney, you might pay for the songs you use in your soundtrack too.
Mary Shelley's Frankenstein (Indifferent) – Where it's cousin, Bram Stoker's Dracula (1992) had a conversion that moved the dial for me in my inexperienced youth, this just… didn't. I may also have finally seen this after actually reading Frankenstein… which kinda ruined it for me since adaptations don't frequently scratch the itch the same way a novel can.
The Santa Clause (Indifferent) – By the time I saw this, most kid movies had lost their charm. Tim Allen plays a guy who gets roped into becoming the real Santa Claus. Tim Allen's not bad as a comedian or an actor – I loved Home Improvement (1991 – 1999) – but… eh.
Leon: the Professional (Good) – I saw this one late. Like, last year late (2016). So a lot of the stuff that was over the top for its day didn't have the punch I suppose to make it one of my higher rated films. It is however definitely worth a watch, not only for Gary Oldman's performance, but also that of a very young Natalie Portman. Additionally, anything with Jean Reno is worth watching. It's about a little girl who loses her family to some very crooked people and wants her neighbor – an assassin – to train her for a path to vengeance.
Star Trek: Generations (Bad) – Another Star Trek plot that bring the original series and the Next Generation cast together. I'm assuming that what left a bad taste in my mouth was the thing that kind of gets me with all television-to-big-screen adaptations: it's just another episode and Trek isn't really my go to sci-fi franchise. This is just a longer episode with better special effects, a couple tacked on big names, and a mild crossover from the original series. Features William Shatner, Malcolm McDowell, and the Star Trek: the Next Generation(1987-1994)  crew, including Whoopi Goldberg.
Junior (Indifferent) – Another foray into comedy for Schwarzenegger. This time, he's carrying a baby inside of him! Not as funny as it sounds.
Dumb and Dumber (Bad) – Is there something wrong with me? Maybe I just don't like comedy?Two idiots embark on wacky adventures in their dog grooming van. While I don't really like Carrey all that much (as you can probably tell by now), Jeff Bridges is kind of awesome. He at least should have moved the dial up to indifferent but… no.
Maverick (Good) – This western, focusing on gambling and riverboat casinos, didn't quite move the dial as much as Tombstone did. You do, however, get great performances by Mel Gibson, James Garner, and Graham Greene.
True Lies (Good) – I remember this film clearly. My cousin and I took my dad to go see this as a surprise for his birthday I think. He'd helped my cousin and I a lot that year, and Dad loved it – especially the bits with the Harrier Jet. Arnold Schwarzenegger plays an undercover agent. His line of work gets in the way of his marriage with Jaime Lee Curtis though. She feels alone and wants some excitement in their romance again. Unfortunately, this gets her tied in with his work, which both she and he are totally unprepared for. Good supporting cast in the form of Bill Paxton and Tom Arnold.
Music To Outshine the Movie
Let's take a moment before we get to my cinematic viewing failures to discuss something that's been on my mind for the past couple of nineties posts: music.
You've no doubt seen music come up in the notes for a lot of my favorite films already. It goes to say that most movies that grip you in your very soul have some musical accoutrements going on, even if you may not be consciously aware of it. Graeme Revell is one of the best guys at doing this, though I'd also credit Trevor Jones and James Newton Howard. You also get the household names who ubiquitously stand out for their significant melodic contributions, such as John Williams or Danny Elfman.
But, there's another kind of soundtrack that comes up again and again: the ensemble soundtrack. These are performed by the famed and justly popular 'Various Artists.' This leads to a weird phenomenon that I've noted when it comes to the ensemble soundcast. Their collected artists blend to form exactly what the movies need, above and beyond a score (soundtracks and scores being very different).
But, sometimes. Just sometimes… you get a lackluster or even terrible film that has a great soundtrack.
I have a couple of these in mind, but the one I'm going to use as an example is the movie Mortal Kombat (1995). This movie is pretty awful. While some video game franchise adaptations have gotten big (Tomb Raider 2001, Resident Evil, 2002) this was not the era for that kind of outcome (though Mortal Kombat did spawn several, equally awful sequels – so they must have done something right). Video game adaptations were more likely to come out like the much maligned film, Super Mario Brothers (1993). Mortal Kombat wasn't quite that bad, but when you cast Christopher Lambert as the Japanese God of Lightning, you have failed spectacularly. Even with Cary-Hiroyuki Tagawa as Shang Tsung, they still had a lot of explaining to do.
The soundtrack, on the other hand, is amazingly good. If I'm sitting down to write or to get work done, I am very likely to have Mortal Kombat's soundtrack on hand. It's high energy and features a lot of great acts like KMFDM, Juno Reactor, Gravity Kills, Orbital, Fear Factory, and Type O Negative. These are not mainstream acts either. Most of these guys are hailing from the school of electronic and industrial music. But good goddamn do they put on a hell of a show.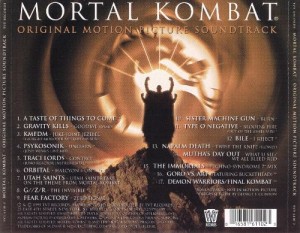 Not only bombs get stunning soundtracks, though . There are other good films whose soundtracks really outshine or perfectly compliment the film. Empire Records (1995) comes to mind as a good example of this. While it was a great film at the time I watched it, it's impact has lessened over time – but the soundtrack has not. It's not a bad movie per se, but the music definitely outshines it, at least for me.
There are also great movies that get even better soundtracks. Stuff that gets watched again and again, but you listen to the soundtracks way more frequently. A great example of this is Grosse Pointe Blank (1996). It's soundtrack is like a love song to New Wave and the eighties in general.
Here's a couple more examples (from both good and bad films) of nineties soundtracks that get listened to more than the movie gets watched. I think you can figure out the good from the bad:
Batman Forever (1995) featuring Seal, U2, Massive Attack, and the Flaming Lips.
The Crow (1994) featuring The Cure, Nine Inch Nails, Stone Temple Pilots, Jesus and Mary Chain, and My Life With the Thrill Kill Kult.
Judgement Night (1993) featuring mashups such as Biohazard with Onyx, Cypress Hill with Pearl Jam, Sir Mix-a-lot with Mudhoney, and Run D.M.C. and De La Soul.
Demon Knight (1995) featuring Pantera, Ministry, the Gravediggaz, Rollins Band, Megadeth, and Filter.
Dangerous Minds (1996) featuring Coolio… and surprisingly little else, but I listen to that song way more than I watch that film (I don't think I've revisited it since the first watching).
Romeo + Juliet (1996) featuring The Cranberries, Garbage, Everclear, Radiohead, Butthole Surfers, and the Cardigans
The Matrix (1999) featuring Rammstein, Rob Zombie, Rage Against the Machine, Rob Dougan, Spybreak, Ministry, the Deftones, Marilyn Manson, and the Propellerheads.
Space Jam (1996) featuring R. Kelly, Seal (by way of Steve Miller), Tommy Chong with Cheech Marin, and Salt-n-Pepa
Clerks (1994) featuring Bad Religion, Stabbing Westward, Soul Asylum, and Alice in Chains.
I am positive that I haven't even hit a fraction of the soundtracks that are going to push peoples buttons. These are just mine. But the fact that the byproduct of the film can be just as engaging or even better than their films boggles my mind sometimes given the difference between the cost of making a film and finding suitable music.
Cinematic Sins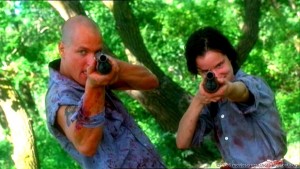 As always, there were some films that were explicitly blocked by parents, others that came and went too quickly, or that I was too limited in personal growth to see the potential value of. I'd like to think that by the age of seventeen that I'd have something resembling sense, but… nope. No such luck.
Blink – I vaguely remember this title pinging the radar at some point, mostly because it was about a person who through medical advances gets their sight back. Further research showed it features Madeleine Stowe, which is a plus given how much I like 12 Monkeys (1995).
The Getaway – Mostly this would be good to watch just for the basis of its cast. It didn't have robots, zombies, aliens, or anything 'weird,' so it failed to draw my attention. With Alec Baldwin, Kim Basinger, Michael Madsen, Jennifer Tilly, Philip Seymour Hoffman, and James Woods, it probably wouldn't be a waste of my time.
Reality Bites – Sullen and single me wouldn't have been down to see this at the time. I'm glad I'm not such a moody shit anymore. This was Winona Ryder in her prime. Plus Ethan Hawke, Ben Stiller, and Janeane Garafalo before she really got famous.
Sugar Hill – Another gritty portrayal of people involved with the drug trade. So you can imagine this one didn't pass muster for parental funds. Also at that time I hadn't really got into the genre of crime movies yet. That'd change in the next year with The Usual Suspects (1995). It's got Wesley Snipes before he went batshit crazy too.
The Hudsucker Proxy  – I like Tim Robbins. Let's give it a go. I've heard you either love this film or you hate it. Not a lot of middle ground.
Threesome – See Reality Bites above for the reason and replace the actresses and actors with Lara Flynn Boyle, Stephen Baldwin, and Josh Charles.
Surviving the Game – I don't remember this one coming around but it came up in my research for this year. It's Rutger Hauer and Ice-T. I'm down for that.
Brainscan – I can hear my friend Nick tutting at me for not having seen this. I shall have to reach out to him for a viewing. I would not be surprised at all if he has this on DVD somewhere.
PCU – This film is another example of what I call 'The Shawshank Factor'. It is a movie that I have seen bits and pieces of, multiple times, but have never watched in total. I am unsure as to whether or not I have seen all of this film. It's got some great work by Jeremy Piven and David Spade, so I'll need to get back to this from start to finish.
Crooklyn – Another Spike Lee Joint. He was a voice for both my generation and the one before it. And, arguably for today's as well. I really need to catch up on his work. Plus one of my favorite actors. Delroy Lindo, is in the cast.
Renaissance Man – I like Danny DeVito. Sure, why not?
Wyatt Earp – I like the lore of the men and women involved in Tombstone's history, but I never had the three hours and ten minutes to sit down and watch this film on one of the most famous of those people, the titular Wyatt Earp.
The Client – Maybe if I like The Firm (1993) I'll watch this one too. Lord knows I can't seem to sink my teeth into Grisham's novels, so movies are probably the better way to go.
Clear and Present Danger – There are so many Tom Clancy adaptations that this one just became another in the mix. I don't typically go out of my way for Republican ideology in my fiction either. But this is Harrison Ford. I can trust him, right?
Natural Born Killers – This is where my parents drew the line in 1994. I may have gotten away with Pulp Fiction. I may have snuck in Clerks on VHS. But they were not putting money into my hands to go see a movie that they felt glorified serial killers. It didn't matter how cool Oliver Stone might have seemed after JFK. I just never got back to this one, not even with its great lineup: Woody Harrelson, Juliette Lewis, Robert Downey Jr, Tommy Lee Jones, and Tom Sizemore.
Quiz Show – So many people have talked this one up and at the time I couldn't have cared less. Now that I know a little bit more about its background, I think I'd probably enjoy it.
Ed Wood – Given my leanings, I have no idea why I wouldn't have gone immediately to the theater to watch Tim Burton's biopic on Ed Wood, starring  Johnny Depp.